Sign Up
Sign Up - Get Started (Step 1 of 4)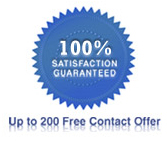 Please fill out the following Employer Profiler. There is no cost and no obligation. Within two business days of submitting this form, an Employment Authority Advocate will contact you via the telephone number provided to set an appointment to discuss your employment opportunities, your job search, and your resume.

If at any point while you are filling out this form, you have questions or comments, Please contact us at 1.800.283.3860.






Testimonials
What Our Clients Are Saying
Everything was great and I would definitely recommend it to the others.
- M.D.

I sent them out a while ago (probably a week and a half) and there were over 100. I got probably 4 interviews out of the mailings so far, but I haven't found anything yet that fits what I want to do.
- M.D. - Sarah

Hi - I sent out 150 or so resumes to Colorado with your service six months ago, and got 3 interviews, and two offers. I love my firm and the job, but my wife hates the cold. I need you again - let's look somewhere warm! Please contact me soon - you guys were the best investment!
- M.D. - Sarah - Russ


MORE


Tax-Deductible
Our Services Are Tax-Deductible!
You may be able to claim all of your job-search expenses, including costs related to the preparation of resumes and cover letters, as itemized deductions.

According to the Internal Revenue Service, job-search expenses are deductible up to a limit which equals 2% of your adjusted gross income. You can deduct certain expenses you have in looking for a new job in your present occupation, even if you do not get a new job.

You cannot deduct these expenses if:



You are looking for a job in a new occupation,
There was a substantial break between the ending of your last job and when you began looking for a new one, or
You are looking for a job for the first time.


Employment and Outplacement Agency Fees
You can deduct employment and outplacement agency fees you pay in looking for a new job in your present occupation.

Resume
You can deduct amounts you spend for typing, printing, and mailing copies of a resume to prospective employers if you are looking for a new job in your present occupation.